8 Craft Beers for Wine Lovers (and my personal tips)
It's not unusual to have the odd person on our Vancouver Brewery Tours who declares themselves a "true winer lover" over a beer lover. We do our best to open their eyes to the beer world and suggest styles that are milder and less hop-forward to get started. This article from the Chronicle Herald gives some great suggestions for beers if you're trying to win over a wine lover. Find out what their favourite type of wine is and try one of their suggested substitutes. We're sure you'll find a suitable example from our Vancouver breweries. You can read the full article here.
There's really no reason to think there isn't a local craft beer that will appeal to them — they just may not have been introduced to the right style.
Like a Cabernet Sauvignon? Try an India Pale Ale
If you like Cabernet Sauvignon you are likely not afraid of flavour or a little bit tannic bitterness. Tannins, found in grape skins and oak, provide red wines their appetizingly dry finishes much like hops do for beer. India Pale Ale is the beer world's Cabernet Sauvignon, as they possess elevated hop bitterness in the finish.
(So many great local Vancouver Brewery examples. Try the BC Beer Awards Best in Show – Steamworks Brewing Flagship IPA. Other fine examples include Doan Craft Brewing Co's West Coast IPA and Strathcona Beer Co's English IPA)
Like a Reisling? Try a Wit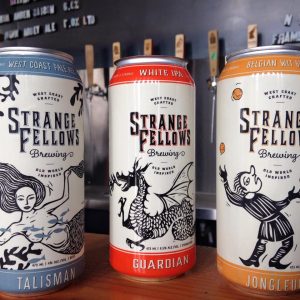 Riesling has a love it or hate like relationship with many wine lovers. I love it when it's made well. I suspect there is a similar reaction to Belgian-style Wit with beer drinkers. Great Rieslings possess remarkably fragrant aromatic profiles and even when made into sweeter edged styles remain balanced. The same applies to Wit, which can have almost sweet citrus flavour, accented by mild exotic spice notes. When made well they have a refreshingly tart finish to counterbalance any perceived sweetness.
(Local examples – Strange Fellows Brewing Jongleur Wit or Big Rock Urban Rhubarb Wit)
The biggest overarching difference between wine and beer is the natural acidity of wine, but there is any number of beer styles that have a tart character.
Personally, I've introduced my wine loving friends to kettle sours. Easy WIN! Good examples are Brassneck Brewery's Changeling or Powell Street Craft Brewery's Sour Series (any of them). I even had one friend turn from wine to beer after trying the VERY flavourful Storm Brewing Flanders Imperial Sour. You just never know!
Both sour beers and Burgundian Pinot Noir have a sort of Holy Grail element to them, as when they strike the right chord of controlled funk and edgy sourness that can teeter on vinegary disaster they are sublime. David Flaherty, in an article published in Serious Eats, once said:
"It smelled of horse butt, dabbed with vinegar and blue cheese" as a positive description of his first experience with a legendary sour beer.
Good luck! Remember, just go slow. If in the end, they don't find something they like, just be patient (and try, try again). Don't forget to "Drink Locally."  😉
Cheers, Monica
https://vancouverbrewerytours.com/wp-content/uploads/Canned-Beers-at-Strange-Fellows-Brewing.jpg
960
960
vanbrewerytours
https://vancouverbrewerytours.com/wp-content/uploads/logo-sm-300x60.png
vanbrewerytours
2016-12-14 13:54:00
2020-02-11 18:48:07
What's in a Brew? 8 Craft Beers for Wine Lovers