What could be more fun than meeting new people while drinking craft beer? Well, hop on one of our Public Brewery Tours for a truly fun and unique beer adventure! At Vancouver Brewery Tours, we welcome all types of guests on tour including couples, friends, visitors to Vancouver or just thirsty you! Open to the public, they fill up on a first come, first serve basis through our convenient online booking calendar.
Vancouver Brewery Tour
The longest running and most popular brewery tour in Vancouver since 2013. Our award winning Vancouver Brewery Tour is all about the beer and is the best way to get to know our local craft beer scene.
Local or visitor, we'll whisk you away on a fun and informative craft beer adventure that includes 3 breweries in 3 hours each located in a unique brewery district and neighbourhood of Vancouver. At each brewery you'll be introduced to a wide variety of Vancouver's finest craft beers and get to share some laughs with fellow beer lovers!
$99 + tax
Craft Beer & Food Brewery Tour (Private)
What could go better with a whole bunch of beer samples than a tasty meal? Hop on our weekly Craft Beer and Food Brewery Tour for the best of both worlds, lots of beer and a full meal at our final stop.
Check our schedule to see when each tour runs. Craft Beer and Food Brewery Tour visits 3 breweries in 4 hours and includes full transportation including pick up and drop off from 901 West Cordova Street. End the evening with epic knowledge of BC craft beer and tonnes of great memories.
$130 + tax (currently only available as a private tour)
North Vancouver Brewery Tour
Come experience North Vancouver's  Shipyard's Brewery District ale trail. On this fun and informative craft beer tour, you'll enjoy beers at some of North Vancouver's best craft breweries, all while experiencing the vibrant and historic North Vancouver Brewery District.
Your craft beer adventure begins in the heart of Vancouver's oldest neighbourhood. Take a drive through cobblestone streets, learn about the nefarious characters who founded Gastown and enjoy the neighbourhood's most picturesque landmarks on the way over to a few breweries in North Vancouver.
$99 + tax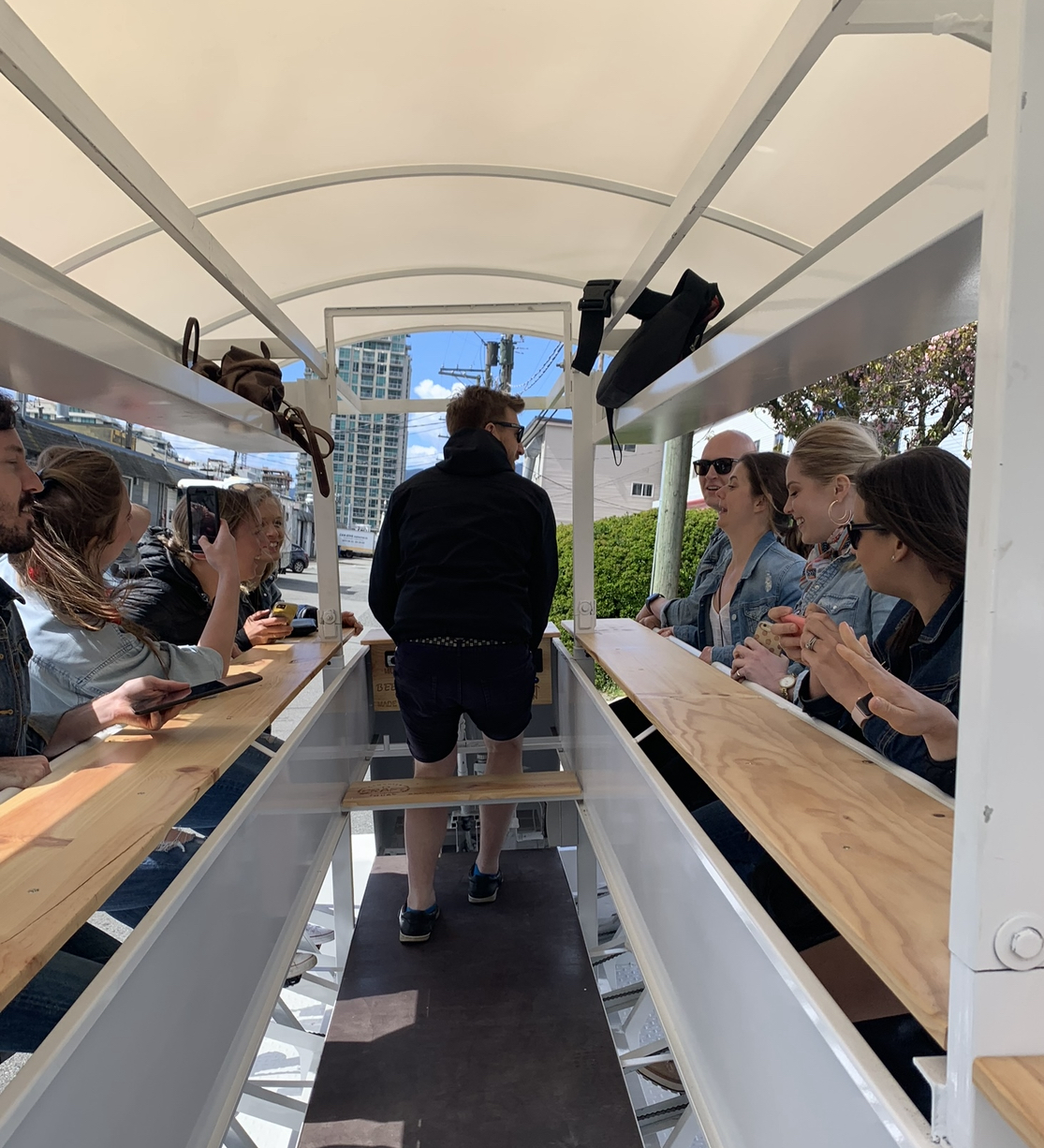 North Vancouver Beer Bike (Craft Cycle)
Explore the beautiful North Vancouver brewery district! Each North Vancouver Craft Cycle Brewery Tour takes place in the Lonsdale Quay neighbourhood of North Vancouver, which is not only North Vancouver's oldest neighbourhood but also home to a large part of the craft beer community.
While on tour you'll visit 3 breweries in 2.25 hours for behind the scenes tours, beer making 101 all while enjoying plenty of our local craft beers (Cost of beer not included, purchase what you like along the way at the breweries). Between each brewery, your guide will introduce you to the history of the area and share interesting facts about the neighbourhood. *Seasonal tours running April to September.
$45pp + tax