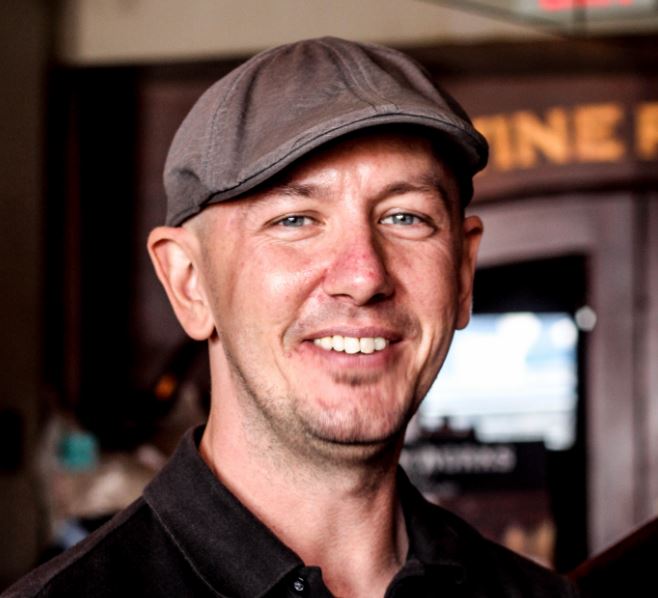 Ryan's passion for craft beer comes from his dad, who, like his dad before him, brewed beer in the family basements of Vancouver (yes dad I remember the story about exploding beer bottles in the night!). An advocate for supporting all things made local, Ryan enjoys sharing his passion for craft beer and introducing others to the breweries of Vancouver and the people who started them. When not leading tours, you can usually find him filling a growler around town, or mountain biking in the North Shore mountains.
First craft beer: Pipers Pale Ale, Vancouver Island Brewery
Current favourite beers: Steamworks Brewing Flagship IPA, Strange Fellows Guardian White IPA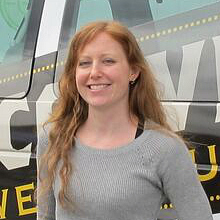 Rachel grew up in the US midwest, then spent a decade in Brooklyn, NY, before moving to BC where she really developed her love for craft beer. Some of her expertise and behind-the-scenes knowledge comes from having worked in one of Vancouver's local breweries as an assistant brewer. Though she doesn't discriminate when it comes to beer styles (with the one exception of smoky beers!), she has a passion for Belgian brews above all others. When not guiding tours, you can find her experimenting in the kitchen with organic foods, and during winter falling down on the local ski hills as she learns to ski the beautiful North Shore mountains.
First Craft Beer: Brooklyn Lager, Brooklyn Brewery
Current Favourite Beers: La Fin du Monde, Unibroue; Cherubesque, Brassneck Brewery; BlackChocolate Stout, Brooklyn Brewery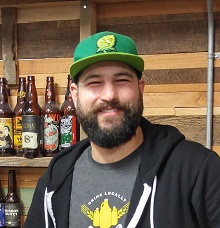 Kris was born and bred in (Y)East Van and has spent most of his life in the 604 area code. The world of craft beer opened up for him when he picked up his first 6 pack of Granville Island Pale Ale back in the late 90s. Kris is continually searching for new, exciting and expertly crafted ales. It's the diversity that is developing in the Vancouver beer culture that excites him; new breweries keep popping up, locally and across the province, experimenting with new styles and techniques, while staying true to time honoured craft brewing traditions. Kris has experience in the food and beverage industry, live events, theatre, film and broadcasting, but through his all his adventures, the best moments in his life were had with beer in hand.
First Craft Beer: Granville Island Pale Ale/Lager
Current Favourite Beers: Some old/current favourites include; Talisman West Coast Pale ale, Strange Fellows / Spirit Animal Barley Wine, Brassneck / Imperial Flanders Sour Ale, Storm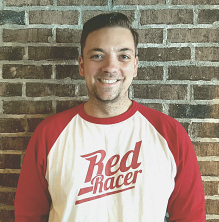 Sean proudly came to Vancouver from the frozen lands of Winnipeg MB to thaw out in 2007 and never left. His first introduction to craft beer was a case of Blue Buck a friend brought over for a Star Wars marathon in college. And like the planet of Alderaan – he was blown away. Ever since he's made craft beers and cocktails a passion. He comes to us from 6+ years in the bar industry, focusing on cocktails and spirit making. He's been accredited with a certificate from Maison by Pernod-Rickard in association with École Hôtelière Lausanne. When not enjoying craft beers or leading tours, Sean focuses on his love of furniture design with his business East&West Design Co. In the last year he's been able to fuse all his passions; making supplies and decor from breweries and restaurants all over Vancouver as well as custom wooden bar tools and mugs.
First Craft Beer: Phillips Blue Buck
Current Favorites: Tofino Blonde Ale, Persephone Best Bitter and Twin Sails Sticke Alt.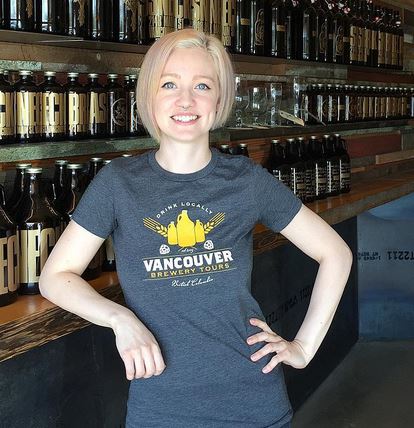 Born and raised in Greater Vancouver, Leigh explored several other potential paths (linguist, live music photographer, and makeup artist, to name a few) before settling into the brewing industry. A lucky glance at Twitter led her to a job in the tap room at one of Vancouver's largest new craft breweries where she expanded her palate and applied her natural curiosity to the business of selling beer. Four years later, Leigh is still happily ensconced in the Vancouver brewing community and excited to share her passion with a whole new audience.
First Craft Beers: Pyramid Brewing Co. Apricot Ale and Granville Island Winter Ale
Current Favourite: Strange Fellows Talisman Pale Ale