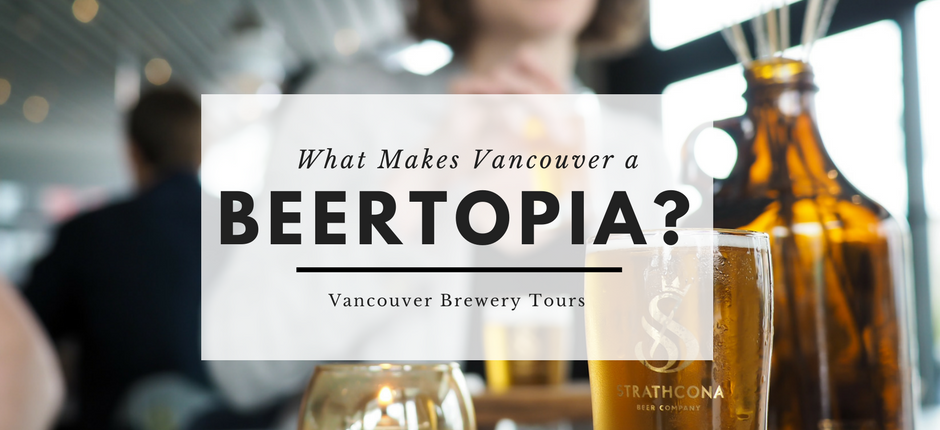 Why is Vancouver's Craft Beer scene exploding? How come so many breweries are opening up around town? What the heck is going on up here?
We get these questions all the time from our out of town guests when they learn of the explosive growth of Vancouver's craft breweries. The answer to our success isn't always so simple and can depend on who you talk to and their relation to the craft beer community.
But just because "it may be complicated" didn't stop Vancouverite Shaun Robertson from This Life in Trips from digging a little deeper. We had the pleasure of hosting a brewery tour for Shaun and he's put together a nice article on the success of our local breweries, and what makes Vancouver Beertopia.
The following paragraphs are from the full article "What Makes Vancouver a Beertopia".
Straight to the Source
When asked what's behind the surge in local craft breweries, Ryan Mackey, owner of Vancouver Brewery Tours, points to a combination of factors. "Relaxed import laws saw really interesting beers from Oregon and beyond start to flow into Vancouver for the first time, which created an opportunity for new breweries to open up and cater to this demand." Mackey continued "thanks to liquor laws being reviewed and updated, brewery tasting rooms also started popping up."
Good to know I was on the right path. My hometown was starting to offer everything I fell in love with in Portland without the six-hour drive.  Well played, Vancouver.
Ryan also points to local consumers waking to the idea of supporting locally made craft beer. Their pallets were challenged and along with that came a willingness to experiment and try new beers. The result of this appetite for better beer and a refreshed take on liquor laws created a new type of drinking experience that was very different from the usual pubs and restaurants. This is the culture I loved in Portland, but found lacking from the early breweries in Vancouver. This is not lost on Ryan.
"Before our scene exploded in popularity, many small independent and local breweries slogged it out for many years and in a sense paved the way for the success of so many new breweries. Breweries like Storm Brewing, Steamworks Brewing, R&B Brewing and many more deserve a lot of credit in fostering this new environment."
Read the full article here.
https://vancouverbrewerytours.com/wp-content/uploads/Vancouver-Brewery-Tours-Welcom-to-beer-topia.png
788
940
vanbrewerytours
https://vancouverbrewerytours.com/wp-content/uploads/logo-sm-300x60.png
vanbrewerytours
2017-05-31 09:43:51
2017-05-31 17:17:54
What Makes Vancouver Beertopia?