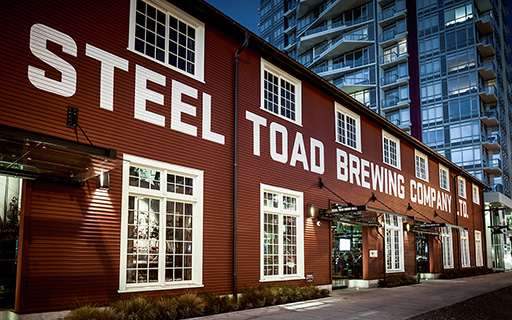 Some exciting news to share out of the historic Brewery Creek neighborhood. Tap and Barrel has recently announced the takeover of the Opsal Steel Building (formerly Steel Toad Brewing Co.). It will soon become Brewhall
Tap and Barrel has released the following statement:
For Immediate Release
TAP & BARREL TO LAUNCH INNOVATION BREWERY SPRING 2018
VANCOUVER, BC, JANUARY 18, 2018 – Vancouver's Brewery Creek neighbourhood is about to welcome an exciting addition that will change the landscape of the province's Craft Beer scene with the Spring 2018 launch of Tap & Barrel owned T&B Brewing Co., which will house their Brew Lab, dedicated to craft beer product innovation. This small batch brewery located at 97 East 2nd Ave., (formerly Steel Toad Brewery) in the heritage Opsal Steel building, will collaborate with other breweries as a platform to showcase great local talent and push the boundaries on small batch product development in BC's burgeoning craft beer scene.
T&B Brewing Co. will house a large format modern-day beer hall, showcasing exclusive and innovative products both on tap, and on plate, including locally distilled barrel-aged cocktails and partner brewing collaborations called collabobeers. "We are very excited about taking our collabobeers to a whole new level; we see this as a natural strategic step in our company's evolution. We are heavily invested in the local craft beer industry in this province. This gives us the ability to take our collaborations and innovations to an unprecedented level, while deepening our relationships with our brewery partners," exclaims Ryan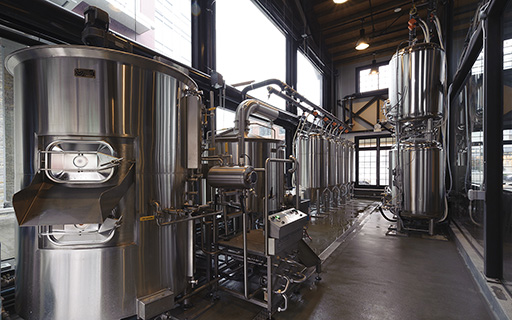 Craig, Tap & Barrel's Beverage Director.
Pilot brewing will commence in early February. "We have an amazing opportunity to work with the community, collaborating with others in the area and focusing on creating an exciting and changing line up," exclaims Kerry Dyson, Head Brewer of T&B Brewing Co., former Head Brewer of Bridge Brewing Company. "Working with innovative styles and bringing others together for collaborations will keep our beers fresh, local and exciting."
Tap & Barrel launched its first restaurant five and a half years ago as the anchor tenant in False Creek's Olympic Village neighbourhood, only two blocks away from the soon-to-open brewery. "Tap & Barrel has played a pivotal role in raising the awareness for the local craft beer industry through their restaurants. They have always been innovators, and this Innovation Brewery is sure to push not only Tap & Barrel but the industry to a new level. I'm excited to see the great collaborations our members will be creating with the T&B Brewing Co. team," exclaims Ken Beattie, Executive Director of the British Columbia Craft Brewers Guild.
Vancouver born and bred, Tap & Barrel has quickly grown to five landmark BC locations. "Our mainstay has always been to celebrate our partners, and we are so blessed to be living in such a bountiful province fueled by passion and creativity," states Tap & Barrel founder and CEO Daniel Frankel. "Our guests know that our restaurants offer the taste of here – the best that our local purveyors have to offer. Now we are able to deepen our reach as we enter this exciting new chapter and collaborate with our brewing partners at a deeper level." Tap & Barrel plans to open the new brewery and beer hall concept this coming spring. Details of the concept are forthcoming, but Frankel promises "there is nothing else like it in Canada."
About Tap & Barrel
Daniel Frankel opened the first Tap & Barrel in July 2012 in Vancouver's Olympic Village. Feeling that too many restaurants offer the same experience, Frankel wanted to create and curate the best of local, where guests can always try something new and truly experience "the taste of here." As its namesake suggests, Tap & Barrel is heavily focused on a sustainable bar program, exclusively serving local independent craft beer and premium wines on tap. Today Tap & Barrel sells more local craft beer than any other restaurant in the province. Tap & Barrel is for people who love to tap into everything local, from culinary through beverages and culture. Driven by passion, this local Vancouver company has grown to five locations, which includes two smaller TAPshack concepts, and is planning continued growth.
-30-
https://vancouverbrewerytours.com/wp-content/uploads/TB-Brewing-Co.-Tap-and-Barrel-Brewing-Company-formerly-Steel-Toad-Brewing-Co..jpg
320
512
vanbrewerytours
https://vancouverbrewerytours.com/wp-content/uploads/logo-sm-300x60.png
vanbrewerytours
2018-01-18 10:33:34
2018-05-23 11:42:00
Vancouver's Newest Brewery – T&B Brewing Co.