Yeast Van Brewery District Presents the 3rd Annual Hop Circuit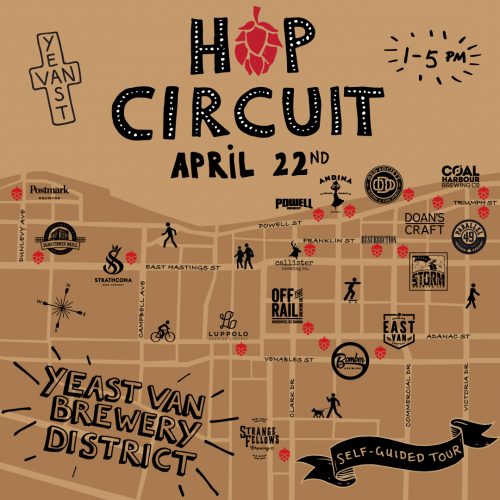 April 22nd, 2018 – Save the date beer lovers because the 3rd Annual Hop Circuit has returned! Each year the breweries and distilleries of "Yeast Van" host and open house and invite the public to join them in celebrating the unique craft beer and spirits community that call East Vancouver home.
Brought to you the Yeast Van Brewery District, each business offers free behind the scenes brewery and distillery tours, a scavenger hunt to keep things interesting and of course tonnes of food trucks to keep you fuelled for the day's adventures. The event take place from 1-5pm.
Our tips for a successful day? Start EARLY and learn to like line ups! Each year most breweries are full to capacity with line ups waiting to get in. Also be kind to the brewery staff and show your appreciation with tips – it's like the Super Bowl of craft beer events at the breweries and staff work very hard to keep you hydrated!
Who is the Yeast Van Brewery District?
Made up of owners, brewers and key staff of all the breweries and distillers of East Vancouver, the the Yeast Van Brewery District gets together regularly and discusses how to market and attract more people to this truly one of a kind craft beer destination.
Andina Brewing
www.andinabrewing.ca
Bomber Brewing
www.bomberbrewing.com
Callister Brewing
www.callisterbrewing.com
East Van Brewing Company – New for 2018
http://www.eastvanbrewing.com/
Hastings Mill – New for 2018
Luppolo Brewing Company
www.luppolobrewing.ca
Odd Society Spirits
www.oddsocietyspirits.com
Off the Rail Brewing co.
www.offtherailbrewing.com
Parallel 49 Brewing
www.parallel49brewing.com
Postmark Brewing
www.postmarkbrewing.com
Powell Street Brewery
www.powellbeer.com
Resurrection Spirits – New for 2018
http://resurrectionspirits.ca/
Storm Brewing
www.stormbrewing.org
Strange Fellows Brewing
www.strangefellowsbrewing.com
Strathcona Beer Company
www.strathconabeer.com
https://vancouverbrewerytours.com/wp-content/uploads/Yeast-Van-Brewery-District-Hop-Circuit.jpg
500
500
vanbrewerytours
https://vancouverbrewerytours.com/wp-content/uploads/logo-sm-300x60.png
vanbrewerytours
2018-04-11 17:21:00
2021-12-15 08:50:48
The Infamous Hop Circuit Returns!