Brewery Tour Guide Gone Wild
Recently our very own brewery tour guide Cyndi took a trip up North to her hometown of Fort St. John and of course, had to discover what the craft beer scene had to offer! Turns out it's really cold, and really good. 🙂
Beards Brewing Co., Fort St. John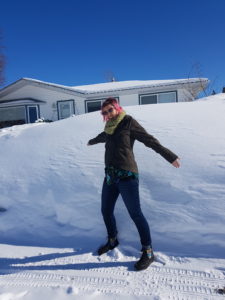 It's Easter, but it's beginning to look a lot like Christmas. It's -22C and the snowbanks are still piled high over my head. I'm in my hometown for Easter weekend and hopping at the chance to warm up with a cold brew! My brother invited me to check out the very first craft brewery Fort St. John has to offer, Beards Brewing Co. (https://www.beardsbrewing.ca/).We loaded up the trucks with all the beer lovers in the family and headed out. On the way to the brewery we spotted a moose in the schoolyard in the middle of town. That's when you know you're in the north!
"Well it's 22 below and I don't give a #*%&, got a heater in the truck, just saw a moose, and I'm up for a brew-e-o"….. OK you gotta be from the north to think that's funny.
Upon arriving at the brewery, set up in the industrial park at the south end of town, we were happy to see their open and airy tasting room, flooded with warm bright sunshine streaming in the windows. If you close your eyes you could almost think it was summer in here. We were lucky enough to be treated to a behind the scenes tour by the brew-master himself, Ryan Nosek. The space is tiny but efficient and they produce enough beer to keep thirsty locals coming back for more.
Opened in November of 2017, their approach to brewing is to keep it fresh and local. They use barley malts grown at local farms from the Peace River Valley. Their production is super small, making several batches from a teeny tiny mash tun and kettle to fill the fermenting tanks to a max of 1200 litres at a time. No wonder several of their selections were already sold out!
Favourite Beer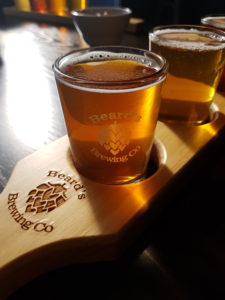 My favourite was the Alaska Highway IPA which was smooth and nicely balanced, with a fruity aroma, tasting notes of peach, apricot and citrus all wrapped up with a grapefruit finish. Pretty darn good for a self-taught brew master! Beards Brewing Co. is also big into building community. They host games nights, bingo + pizza nights and support the Fort St. John Firefighters Association. That might be because owner Stephen Beard is a firefighter with the city of Fort St. John. Nope, that's not hot.
If you're ever in the north or planning a trip up the Alaska Highway, I highly recommend a stop at Beards Brewing Co. Soon you will also be able to combine it with a trip to the Mighty Peace Brewing Company which is slated to open just around the corner from Beards in the spring of 2018. That is, if spring ever arrives!
https://vancouverbrewerytours.com/wp-content/uploads/20180331_163145-e1523472521374.jpg
4032
3024
vanbrewerytours
https://vancouverbrewerytours.com/wp-content/uploads/logo-sm-300x60.png
vanbrewerytours
2018-04-11 17:05:33
2018-04-12 10:51:15
Drinking Locally in the Great White North