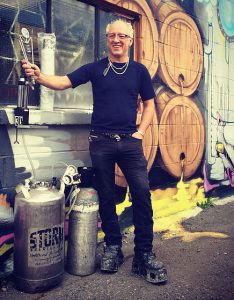 This month we shine the spotlight on one of the most popular breweries on our tour, the one and only Storm Brewing!
Storm Brewing has been on our brewery tours since the day we launched our business in June 2013, and is consistently voted as one of the most popular breweries on our Vancouver Brewery Tour – no small feat considering the abundance of craft breweries in Vancouver and the amount of craft beer choices out there. So why is Storm Brewing such a hit with our brewery tour guests? Well in short, there's nothing quite like Storm.
Storm Brewing opened its doors in 1995 in a small building the heart of East Vancouver at Commercial and Hastings. The owner James Walton had been brewing beer for a few decades and at the time was unsatisfied with the beer being produced in Vancouver, and like any aspiring entrepreneur thought he could do a better job and make better beer. From there James traveled out to a scrap yard in New Westminster and found almost everything he needed to open his new brewery! Both the Mash Tun and Boil Kettle, still in use today, were purchased from this scrap yard and re purposed to make beer. Can you say Mad Scientist anyone?
It was also around this time that James took inspiration from Belgium and began producing sour beers. Truly ahead of his time, James was one of the first brewers in North America to begin experimenting with the style. While the beer has changed over the years, Storm Brewing now produces the infamous Imperial Flanders Sour Ale, an 11% sour beer which will truly make your mouth water and pucker!
While James began producing some of the mainstay beers that have made Storm famous in 1994, beers like the Highland Scottish Ale, the Black Plague Stout, Precipitation Pilsner and the Hurricane IPA, he also realized his true passion, and that was producing truly unique and adventurous beers.  Called Brainstorms, these weekly one offs are considered some of the most unique, and higher ABV beers made in Vancouver. Beers like the Basil IPA, Echinacea Stout, Wormwood Ale and the hugely successfully Whisky Vanilla Stout. No trip to Storm is complete without sampling your way through the weekly Brainstorms!
And speaking of James, his approachable demeanour and kind heart is one of the reasons why the brewery is so popular with our guests. He's happy to tell the Storm story to anyone who will listen, and is always happy to talk beer with aspiring brewers or just folks who love his beer. He's also surrounded himself with some of the best beer staff in the Vancouver brewery scene, and once you've visited Storm you'll know what we're talking about. The beer is great, and the staff are even better.
Another reason why guests love Storm Brewing is the brewery itself. Made before the tasting room culture took hold in Vancouver, Storm is truly a working brewery and one of the "grittiest" spaces in the entire craft beer community in Vancouver. You could say the brewery perfectly captures the spirit of East Vancouver where the brewery resides. We could write about it all we want, but you truly have to visit Storm Brewing and experience the brewery yourself to "get it".
So next time you hop on tour with us, or plan your own walking brewery tour of Vancouver, make sure you visit Storm Brewing. Our advice? Keep an open mind, be adventurous with the beer selection and chat up the staff for a true East Van beer experience.
https://vancouverbrewerytours.com/wp-content/uploads/The-Beer-and-Growler-List-at-Storm-Brewing.jpg
960
768
vanbrewerytours
https://vancouverbrewerytours.com/wp-content/uploads/logo-sm-300x60.png
vanbrewerytours
2017-01-16 15:28:00
2017-04-05 21:29:37
Brewery Feature: Storm Brewing