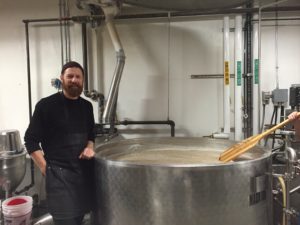 What happens when two of Vancouver's biggest craft beer pioneers get together and decide to open a brewery? In the case of Brassneck Brewery, nothing short of something special. This week we shine the craft beer spotlight on not only one of Vancouver's best craft breweries, but also one of the most popular on our Vancouver Brewery Tours, Brassneck Brewery.
The Idea
The brewery was founded by Alibi Room owner Nigel Springthorpe and long time Steamworks Head Brewer Conrad Gmoser. Nigel built his reputation by showcasing and pouring a large selection of local craft beers as well as quality international craft beers at the Alibi Room since 2006. Co-owner Conrad first met Nigel through the Alibi Room, who before opening Brassneck was the accomplished head brewer at Steamworks Brewing and  would recommend speciality beers for Nigel to pour at the Alibi Room. Fast forward a few years, Nigel approached Conrad with the idea of opening a brewery together to which he immediately said yes, and the rest is history.
The Beers
Located on Main Street in the heart of the vibrant and historic Brewery Creek district, Brassneck Brewery opened its doors in October 2013 and in less than 4 short years Brassneck has gained a reputation as one of the leaders in the craft beer craze currently pouring through Vancouver and BC. That reputation has been earned by producing an eclectic and abundant mix of quality beers; since opening day Brassneck Brewery has produced over 100 unique craft beers, a massive feat considering the size of their brew house and tasting room.  At a time when most new Vancouver breweries would open their doors to a taplist consisting of mostly Pale Ales, IPAs, Stouts and more, Brassneck started with arguably the strongest opening beer line up the city has ever scene. With beers like the now famous Inertia Russian Imperial Stout, No Brainer Corn Lager, Mulitweizen 5 Grain Hefeweizen, Passive Aggressive Dry Hopped Pale Ale and much more, let's just say the bar had been set very high!
The Vibe
Everyone's got their opinion about their favourite brewery right? Well one of the coolest parts of being a brewery tour guide is hearing first hand from thousands of people a year what they have to say about our craft breweries and what they like about them. In the case of Brassneck, our guests have come to appreciate not only the ever changing taplist, quality brews and comfy tasting room, but also the vibe. Yes, the vibe. Every business works hard to create a culture that is not only a great place to work for its employees, but also a welcoming space where customers can just hang out and enjoy time with friends away from home, and Brassneck has got this dialed in. Filled with some of the most sincere, helpful and knowledgeable staff (and customers!) in town, beer somehow tastes better when you're surrounded by good company, and good company is always available at Brassneck Brewery.
Brassneck is a regular stop on our tours and can be found on our Walking Vancouver Brewery Tour of Brewery Creek, Craft Beer and Food Brewery Tour every Tuesday night, on our Saturday and Sunday Vancouver Brewery Tours and by request private group tours.
Thanks for reading!
The Vancouver Brewery Tours Team.
https://vancouverbrewerytours.com/wp-content/uploads/The-boys-at-Brassneck-Brewery.jpg
604
505
vanbrewerytours
https://vancouverbrewerytours.com/wp-content/uploads/logo-sm-300x60.png
vanbrewerytours
2017-02-28 16:08:00
2017-04-05 20:45:57
Brewery Feature: Brassneck Brewery