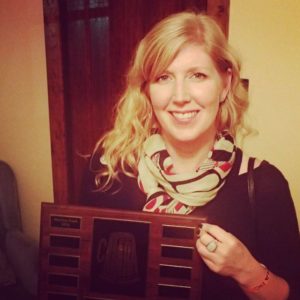 Craft beer is our passion at Vancouver Brewery Tours, and every single member of the team applied for a job with us because they wanted to not only express that passion, but also to support the growth of our local craft beer community. As a result we're lucky to have some serious experience and firepower on the team!
A few of our guides are commercial brewers, homebrewers, Cicerones, advocates, volunteers and much more. Even with all this talent, there is one team member that clearly stands out for not only her experience, but also for her contribution and continued dedication to the community as a whole, and that is our very own Operations Coordinator Monica Frost.
Monica works hard behind the scenes for us coordinating all aspects of our Public and Private Vancouver Brewery Tours, social media, customer service and much, much more. If you've ever booked a Private Brewery Tour with us chances are you've either spoken to or received emails from Monica as the voice of our tour program. Monica has been with us for over 2 years and continues to not only further our own interests but also the craft beer community as she plans brewery tours with over 19 breweries on our tours.
That is why we were thrilled to see Monica receive much deserved recognition in the most recent edition of What's Brewing Magazine. Monica was profiled for her "Decade of Community Service" which mentions the various roles she's held in the community and acknowledges her for her continued contribution.
The full article can be found in the most recent edition of What's Brewing Magazine here https://issuu.com/whatsbrewing/docs/2017-01/10
Cheers,
Ryan Mackey
Owner | Vancouver Brewery Tours
https://vancouverbrewerytours.com/wp-content/uploads/Monica-Frost-2.jpg
726
727
vanbrewerytours
https://vancouverbrewerytours.com/wp-content/uploads/logo-sm-300x60.png
vanbrewerytours
2017-03-02 10:58:00
2017-04-05 22:25:59
A Decade of Community Service: Our Very Own Monica Frost