¡ Salud mis amigos !
Beer is too often associated with only a handful of European countries: Germany, the Czech Republic, Belgium and the United Kingdom. Somehow these players have become the most well-known in the game, however, beer has been enjoyed for millennia all over the world. Canada, Japan, Spain and New Zealand are examples of countries with booming beer industries and surprisingly, the Seychelles and Namibia are in the top 5 countries internationally in terms of per consumption per capita (114.6 liters/year and 104 liters/year respectively).
Enter the Andina Brewing Company!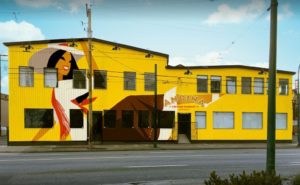 On March 2, 2018, the Andina Brewing Company celebrated their first anniversary of being open for business in the giant, yellow building on Powell Street. They bring a refreshing take on brewing to Vancouver's craft beer scene with flavours, music and influences from South America. The Andina Brewing Company was started by two Colombian brothers (Andrés & Nicolàs Amaya) who named the brewery after a typical woman from the Andean mountain range, an Andina. You can see a mural of their heroine La Pola (a Colombian slang term for beer and a reference to revolutionary folk hero Policarpa Salavarrieta) painted on the outside of their building and on all of their canned products. If you enjoy Latin music, come in on Thursdays to hear local band Cumbia Galera groove the evening away (one of the many reasons we love sending private groups here on Thursdays!).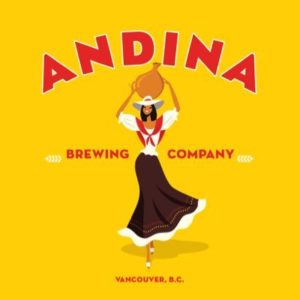 If you think you've tasted all that beer has to offer, we highly recommend a trip to this brewery. They are busy brewing quality beers with all sorts of South American ingredients and we don't just mean the Chilean Patagonia malts.
Lulu, or 'little orange': Currently being used in their Agria sour, lulo is a beautiful fruit. Often described as tasting like a hybrid citrus fruit with kiwi, pineapple and rhubarb flavours.
Guava: Canadians may have heard of guava, but few know it well. The Jalea is a guava saison which perfectly showcases the potential between European and South American flavours.
Passion fruit: What a pairing! The Maraca Black IPA balances passion fruit's sweetness with the floral hops and dark malts of this American-style dark IPA.
Don't worry; there isn't fruit in all of their products (although their Conchita Kölsch uses Colombian coffee). They also brew more traditional beers such as a pale ale, milk stout and blonde IPA. Another delicious reason to visit Andina's tasting room is the food! Such incredible and unique offerings to snack on while sampling their brews. Their take on nachos, or pachos, uses plantain chips instead of corn chips and of course you can find classic Colombian arepas, ceviches and empanadas. If you'd like to visit the Andina Brewing Company then book a spot on our Wednesday tour, we're there every week OR request a tour on your next Priavate Tour.
https://vancouverbrewerytours.com/wp-content/uploads/Vancouver-Brewery-Tours-Inc-Andina-Brewing-Beer-Flights-1.jpg
703
1069
vanbrewerytours
https://vancouverbrewerytours.com/wp-content/uploads/logo-sm-300x60.png
vanbrewerytours
2018-03-20 10:40:33
2018-03-22 12:12:59
Andina Brewing Company Celebrates 1st Anniversary