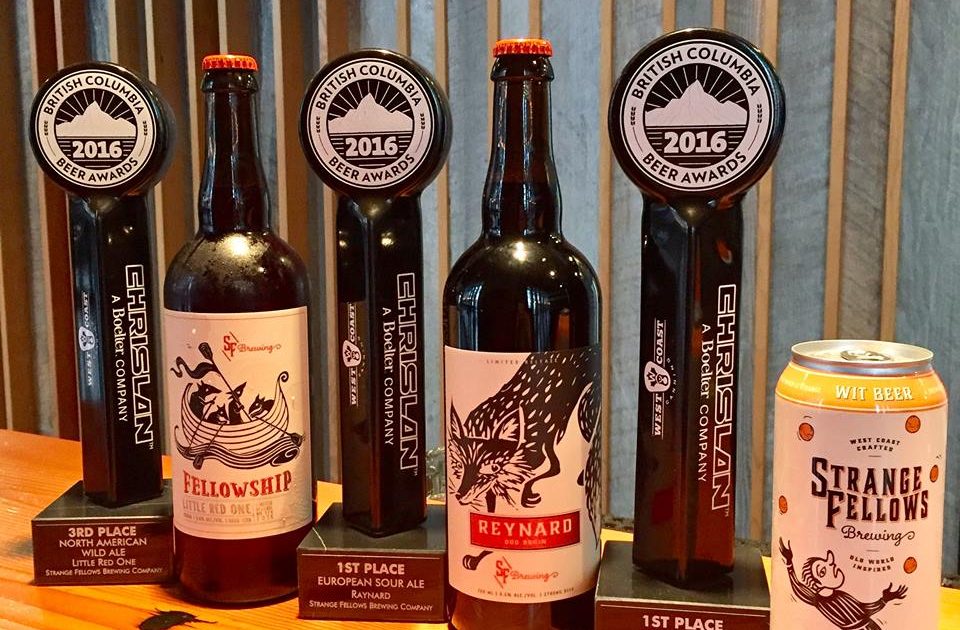 Here at Vancouver Brewery Tours we like to keep our growlers filled with local suds and there is definitely enough to go around, and of the quirkier Vancouver breweries serving those suds is Strange Fellows. Combined with their industrial East Van location on Clark Dr and unique brand appeal, their Strange Days event series showcases the more adventurous side of the Vancouver beer scene.
The first time I heard about Strange Days was in the dead of winter when the brewery encouraged customers to arrive in kilts while they served milk stout and Scottish eats to celebrate 'Up Helly Aa', a Shetland tradition. It definitely sounded strange, but given the brewery's name, the event showed that breweries like to have fun too!
The April 30th Strange Days event was 'Walpurgisnacht', a German tradition of figuratively burning your sins, evils, and fears through an effigy. The Fellows happily adapted the event by asking customers to write down their bad feelings and even had free psychic readings available.
After perfecting his sour beer at Yaletown Brewing, it came as no surprise when Strange Fellows Brewmaster Iain Hill announced he would be aging his trademark sour in wooden cask barrels right after the brewery began operations. You can also find a hint of funk in a number of their other beers like mainstays Bayard Farmhouse Saison and Jongleur Belgian Style Wit.
On this night though, I stuck with the seasonal offerings. Coming in at a refreshingly low ABV of 3% and marking the onset of summer, the Gertrude Grapefruit Radler—brewed specially for the event—was a true West Coast beer with a healthy balance of European flair.
As the branch with around fifty confessions hanging from it was prepped for immolation, I enjoyed the Framboise Noir, a mild and fruity Raspberry Hefeweizen. Watching the effigy go up in flames while enjoying a beer was a fitting way to cap off the Winter and I can't wait to see what the Strange Fellows team has in mind for the next installment of Strange Days.
https://vancouverbrewerytours.com/wp-content/uploads/Canned-Beers-at-Strange-Fellows-Brewing.jpg
960
960
vanbrewerytours
https://vancouverbrewerytours.com/wp-content/uploads/logo-sm-300x60.png
vanbrewerytours
2015-05-01 17:42:00
2017-04-27 12:00:34
Strange Days at Strange Fellows Brewery