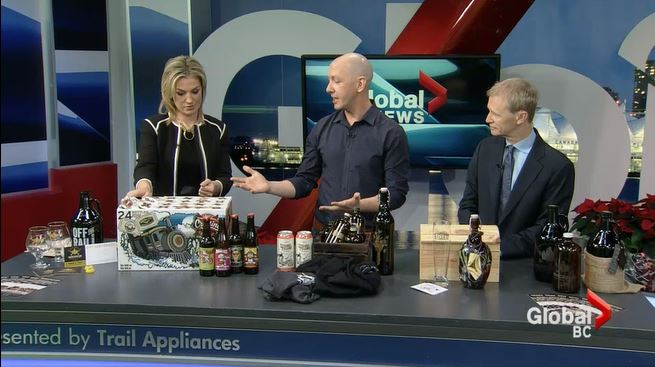 As seen today on Global TV, VBT founder Ryan Mackey talks about his "Top 5 Christmas Gifts for Beer Lovers"
Vancouver Brewery Tours Beer Lover's Holiday Gift Pack – Just in time for the holidays! We've put together the perfect holiday gift pack for all you beer lovers out there. For a limited time only, this package includes 2 seats on our popular weekly public brewery tours, and while you're on tour we'll buy you a 64oz growler filled with a beer of your choice from any of the breweries you visit on tour that day AND you'll also leave with with 2 VBT beer glasses. Now isn't that the perfect Christmas gift for beer lovers?
Craft Crossing Beer Advent Calendar – Central City Brewing and Parallel 49 Brewing teamed up and collaborated to present this year's calendar which incorporates 12 brand new holiday beers and 12 tried and true classics. Darby's in Kitsilano is the place to get it in Vancouver @ $76.45
Locally made brewery t-shirts – Ryan featured Brassneck Brewery and Strange Fellows Brewing today. Valued at approx $20-25
Storm Brewing Glacial Mammoth Extinction – $1000 – A total of ten bottles were designed and made of hand blown glass by Terminal City Glass Co-op's Brad Turner. Adorning these bottles are one of a kind prehistoric mammoth ivory pendants made by local sculptor Richard Marcus. The ivory used for these pendants is from a tusk estimated to be 35,000 years old and they are complimented with a 14K gold clasp. Both of these East Vancouver artists are renowned for their craft and their studios are located within walking distance from the brewery.
Sigil and Growler custom designed growlers – choose your own engraving! Visit their etsy shop for examples and more details.
Did you miss it? You can watch it here. Global TV