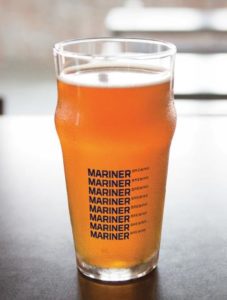 Being a brewery tour guide has its perks. We get to regularly visit 19 unique craft breweries on tour, talk shop with the brewers, sample limited release beers and get the inside scoop on all the exciting beers and projects coming soon to market. Basically craft beer geek heaven. We also hear whispers of the plans for new breweries, which is always very exciting to learn about new additions to the craft beer community, and with that in mind we've got some big news to share with you.
Vancouver Brewery Tours is excited to announce that a new brewery is coming to the Tri-Cities in 2017, Mariner Brewing. Mariner is positioned to be Coquitlam's first craft brewery, which is kind of a big deal for the growing suburb. With the huge success of the near-by breweries of Port Moody's Brewers Row, some may say it was only a matter of time until Coquitlam got its very own craft brewery, and now thanks to pioneer and Mariner Brewing Owner Byron Vallis, the time has come.
We had the opportunity to sit down with Byron and learn about his plans for the brewery, and why he chose to bring craft beer to Coquitlam.
And the good news doesn't stop there. Our interview with Byron and Mariner Brewing will be the 1st in a series of interviews with the owners of new Vancouver breweries poised to open their doors in later 2017/2018.
What is Mariner Brewing?
Mariner Brewing is Coquitlam's first brewery and is our vision to explore territory unknown and make new discoveries in craft brewing! This concept guides our brewery and everything we do – from the 50 person tasting room and 23hL steam-fired brewhouse to our range of beers in development.  We are very excited to be amongst great company locally and regionally in craft beer in BC and look forward to showing everyone what we are up to!
What is the story behind the name Mariner Brewing?
For us, craft beer is about exploration, great discoveries, and the stories that come from it. Besides being a major road in Coquitlam where we grew up, the name Mariner is tied to navigation, exploration, and living for the journey and the unknown. It was a natural fit and guides us in our development of new flavours and styles of beer but also in our desire to keep evolving and improving our offer.
Why did you choose Coquitlam as a location for Mariner Brewing?
Growing up in Coquitlam, it has always been our home turf. When we saw Coquitlam City Council moving to allow craft breweries, it all made sense. Given the chance to be the first in the city and also close to so many other amazing breweries in other neighbourhoods, Coquitlam was exactly what we were looking for.
When is your expected open date? How is your progress coming along?
We're working hard to be open Summer 2017! Progress is steady and we've been having a lot of fun preparing to make beer for everyone. We're working through our permits now and are eager to be #buildingabrewery soon. We will keep everyone updated on the progress of Mariner Brewing as things develop through our social channels in the months to come.
Do you have plans for a tasting room, what about growler fills and food?
We have tons of plans for a tasting room! We'll be opening with a full lounge license with space for 50 people, growler fills, a food menu, and much more. We've teamed up with Ply Architecture and the Glasfurd & Walker design team to make Mariner a great place to relax, socialize, meet with friends, and meet new people.
Who will be making beer for Mariner Brewing?
We struck gold with our brewer! We can't tell you who it is just yet, but they are an experienced local brewer and have won several major awards. We couldn't be more excited about the person behind our beer!
What beer styles will you be focusing on initially and what would you like to do in the future?
Rather than focus on specific styles our approach is to focus on making beer that is flavorful and has a balanced profile. We can't reveal our opening lineup yet but it will be a mix of progressive takes on traditional and popular styles. We're also planning a couple sours, some barrel aged beers, and some bottle-conditioned specials. Look out for more details as we get closer to opening. If it's delicious we want to make it!
How will we be able to get Mariner Beer? Any plans for packaged products or draught accounts?
We've been having vivid dreams/nightmares about packaging for months now. Mariner Beer will be available on draft, in growlers, and in carefully boxed cans. We're also planning some bottle-conditioning and limited edition seasonal releases as well.
What else would you like people to know about Mariner Brewing?
Every year we see new great beers being produced in the beautiful Pacific Northwest, and we can't wait for Mariner to be in the fray, venturing to bring great beer to everyone and offering something unique to the craft beer market.
How can people follow your progress or get in touch?
We can be found at Mariner Brewing and on social @marinerbeer at the following:
Instagram: www.instagram.com/marinerbeer/
Facebook: www.facebook.com/marinerbeer/
Twitter: https://twitter.com/marinerbeer
Direct inquiries can email Mariner Brewing owner byron@marinerbrewing.ca
https://vancouverbrewerytours.com/wp-content/uploads/Vancouver-Brewery-Tours-Inc.-Mariner-Brewing-Coquitlam-Beer-Glass-1.jpg
466
352
vanbrewerytours
https://vancouverbrewerytours.com/wp-content/uploads/logo-sm-300x60.png
vanbrewerytours
2017-02-13 11:46:00
2017-06-01 14:40:55
Introducing Mariner Brewing – Coquitlam's 1st Craft Brewery