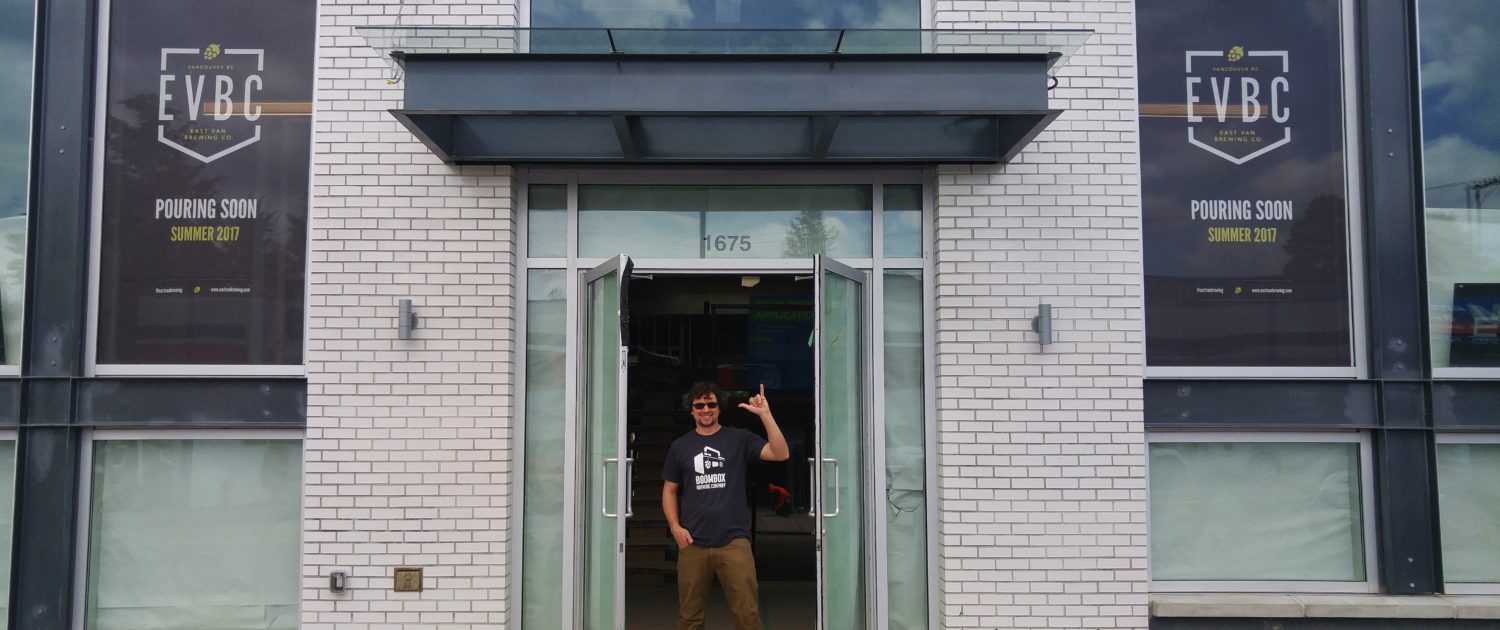 The East Van Brewing Company will be opening in a few short months in the heart of the East Vancouver brewing district known simply in some circles as "Yeast Van". Vancouver Brewery Tours owner Ryan had the opportunity to visit with East Van Brewing Company Head Brewer James Labbe to talk about the progress and plans for the newest brewery to the Yeast Van craft beer community.
Who is East Van Brewing Company?
The brewery currently has a trio of talented young professionals working behind the scenes to make this brewery a reality. Steve, the owner, has had great success with running pubs and restaurants around town over the years and always wanted to open his own brewery. James, the head brewer, will get to flex his creative muscles in a way he has always dreamed, and Lisa, creative director/social media guru/artist, has already started giving EVBC a presence with her unique style, drawing inspiration from the neighbourhood.
About the Head Brewer
James brings years of accomplished commercial experience to the role having started delivering kegs and later working as the assistant brewer with Steamworks Brewpub to landing the lead brewing role at Deep Cove Brewers and Distillers. James is also a longstanding member of Van Brewers and an accomplished home brewer. It's been both a dream and a natural evolution for James to take on the role of head brewer, which comes to fruition with EVBC.
What Types of Beers will East Van Brewing Company be Producing?
James and Steve are self-described hop heads who naturally prefer more hop forward beers. But on top of a few mainstay beers like a west coast pale ale and German style lager, James will focus on styles like farmhouse ales and sour beers to add depth and an ever changing line up. Drawing from exciting developments happening down the West Coast in Washington and Oregon and his New England roots, James is excited about new maltsters, hops varietals and yeast strains arriving on the market, which he looks forward to incorporating into his beers to show where the industry and its demand for creativity have led him.
Where is the Brewery Located?
The brewery is located in East Vancouver at 1675 Venables Street, which is located less than a block away from Commercial Drive.
The Brewery and Tasting Room
When completed, the tasting room will seat around 60 people and will feature a full bar with a growler fill station, light food and merchandise.
When will East Van Brewing Company be open?
Work is well underway with plans for a late summer/early fall launch.
What types of packaged product will East Van Brewing Company be producing?
In addition to growler fills, beer will most likely be available in 650ml bombers and 6 pack cans to start.
We're super happy for James and his new position, and we wish the team all the success in the journey to opening day. In the meantime, you can follow their progress here:
Website: www.eastvanbrewing.com (under construction)
Facebook: www.facebook.com/pg/EastVanBrewing
Twitter: @eastvanbrewing
Instagram : @eastvanbrewing
Korz Creative: www.korzcreative.com
https://vancouverbrewerytours.com/wp-content/uploads/Vancouver-Brewery-Tours-Inc-East-Van-Brewing-Company-kettle.jpg
1536
2048
vanbrewerytours
https://vancouverbrewerytours.com/wp-content/uploads/logo-sm-300x60.png
vanbrewerytours
2017-06-29 09:25:01
2017-06-29 09:25:01
East Van Brewing Company – Yeast Van's (Soon to be) Newest Brewery