At Vancouver Brewery Tours, we've seen first hand how big craft beer tourism has become in Vancouver. The city's craft beer scene continues to grow and evolve, and with it an increasing amount of national and international recognition is being bestowed upon the city. Our recognition as a vibrant beer city has also attracted an increasing number of curious imbibers traveling to Vancouver seeking to sip and spend their way through our breweries and ale houses.
Vancouver Brewery Tours founder Ryan Mackey was recently interviewed by the Georgia Straight and asked his opinion on what makes Vancouver such a hot destination for craft beer tourism right now.
Below is a snippet of a featured article in the Georgia Straight, you can read the full article here.
World turns its attention to B.C. thanks to brewery boom and events like Vancouver Craft Beer Week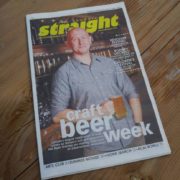 Even though Vancouver came considerably later to the microbrew party than Seattle, Portland, and pretty much all of Europe did, our city has started to position itself as a bona fide mecca for those whose sightseeing starts on the craft-beer scene. If you brew it, they will come.
"The word has been getting out, especially over the last couple of years," Vancouver Brewery Tours founder Ryan Mackey tells the Straight in a phone interview. "More and more articles have led to more and more exposure around the world. We really have started to get that reputation as a craft-beer destination. We've got people from all over the world doing our tours. The coolest one for me was someone from Iceland who came on our tour with his buddy from Sweden. They went to Bomber Brewing, and the guy from Sweden said, 'That pilsner is exactly what it tastes like back home.' "
Over the past half-decade, British Columbia has exploded with craft-beer businesses like Bomber. Over 70 breweries have opened up in the province, with new ventures joining the boom seemingly on a monthly basis. That's attracting beer-loving tourists who, in the past, might have thought of heading to well-established hot spots like Oregon or Washington state. Earlier this spring, Vogue ran a story on Vancouver titled "Is This City the New Craft Beer Capital of North America?"…
https://vancouverbrewerytours.com/wp-content/uploads/Vancouver-Brewery-Tours-Founder-Ryan-Mackey.jpg
829
829
vanbrewerytours
https://vancouverbrewerytours.com/wp-content/uploads/logo-sm-300x60.png
vanbrewerytours
2017-05-25 09:48:20
2017-05-25 09:53:59
Craft Beer Tourism Hits it Big With Curious Imbibers